Gut Health and Immunity
The gut plays a central role in our health and immunity with over 70% of the entire immune system residing in the gut. A healthy gut comprises of a healthy physical structure and also the beneficial bacteria that reside in it. Broth & Co Bone Broth helps support this physical structure and therefore support the growth of beneficial bacteria. A healthy gut helps create a protective barrier between your body and the outside world and helps the right nutrients and small molecules pass into your body. A healthy gut also communicates with the brain through nerves and hormones, which helps maintain general health and well-being.
MOST POPULAR PRODUCTS OF 2021
Our most popular Bone Broths
The Broth & Co Family
Melbourne's Broth & Co is a family owned business; founded by a husband and wife team, who love healthy, nutritious  food that's ready to use for the whole family to consume. Nellie is a pharmacist and busy mum of 5y.o twin boys and Peter is a fitness coach and Master Trainer.
Our philosophy is that food is healing and nourishing, it can prevent disease and reverse disease. The food we consume should be ethically sourced; grass fed, free range, natural and free from pesticides. Working with a great team of Australian food producers and suppliers to create quality, energizing, natural bone broths, easy to use vegetables and snacks - foods with function because Lifestyle Medicine is  the  key  to health and healing.  Read more about us here.
We're excited to announce our recently launched VegEase Kids Superfood Range as we're serious about raising healthy kids! The food children consume can affect their mood, behaviour and learning ability. Having a healthy gut is so important in overall health because it contains our microbiome and the best way to improve our microbiome is to create a healthy environment for them to thrive in and so why we recommend the healing power of bone broth and by having a variety of vegetables in our diet to increase microbiome diversity.
To view this new range Click Here.
What is Bone Broth?
Bone broths are soothing, nutrient-dense addition to the kitchen table and are typically made with bones; marrow bones and knuckle bones. Rich in collagen, amino acids and minerals. These gut healing nutrients help  reduce  inflammation, improve joint health and skin elasticity. For more information on what bone broth is Click Here

Australian. Nourishing. Energising. Soothing. Feel Good. Souping. Sipping.
Bone broth is rich in Collagen, Amino Acids such as Glutamine and Glycine, Hyaluronic Acid and Minerals.
Grass fed. Free range.
Pasture raised beef & free range chicken bone broths - all natural, just wholefoods - no additives. A gut healing soup base, or hot beverage. A Rich Source of Protein & Collagen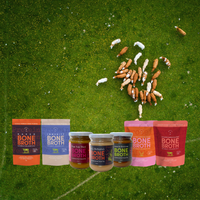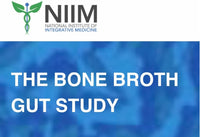 The Broth & Co Bone Broth Gut Study
Undertaken by the National Institude of Integrative Medicine. A 2 month study with significant improvement to gut health and general wellbeing.
Read more about the study
Superfood Latte's eBook
Broth & Co's Bone Broth Powders are all natural, high in collagen and perfect to add to your morning coffee or superfood lattes.
Download E-Book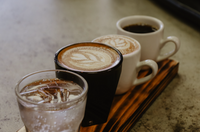 The information presented on this site is for education purposes only. Broth and Co does not provide medical advice, treatment or diagnosis.
ABN 62 182 787 371
26 Dougharty Road, Heidelberg West, 3081, Victoria, Australia